Happy Orange Project  and Girl Scout Troop 4468 partnered to spread kindness at Sommerset Retirement Community.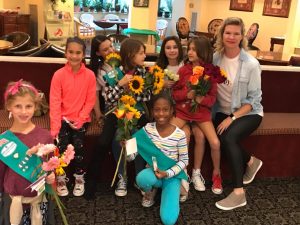 Troop 4468 was inspired by a few of our 365 day initiatives.Together we decided to combine two of the initiatives and make it one HAPPY event. We handed out flowers just like International Women's Day  and we also passed out compliment cards.  
The joy was contagious as the residents had no idea that we were coming. We surprised them at dinner time and the smiles that we received warmed all of our hearts.
The Girl Scouts learned lots of lessons about spreading kindness. They learned sometimes it takes courage to be the initiator of kindness. They learned that when you are the initiator of kindness, it gives YOU joy. They learned that it doesn't take too much time or too much work to make someones day. Most importantly they learned that simple acts can make a BIG impact.
Check out the video to see some of the fantastic smiles-not only by the ones receiving but smiles by the ones giving as well.