We are passionate about inspiring simple acts of kindness and making a positive impact in people's lives around the globe at Happy Orange Project. It is incredibly sad to know that 1 in 6 kids in America struggles with hunger! That's exactly why we recently hosted our Second Annual Friendsgiving, which we plan on making a tradition within our organization. We're grateful for all of our Happy Heroes who helped us beat our goal of $2,000 and raise $3500.
Last year we hosted our first Friendsgiving and we had a blast organizing and gathering with our friends and family. We love how, together, we have taken on this tradition to celebrate the season and give back to those in need! At Happy Orange we want to be part of the solution to ensure our nation's kids are getting the food they need to thrive this holiday season – and all year long.
Last year we ranked in the top 3 organizations that raised funds with a whooping $4771 and we were honored to take part of No Kid Hungry's interview series. Check us out 🙂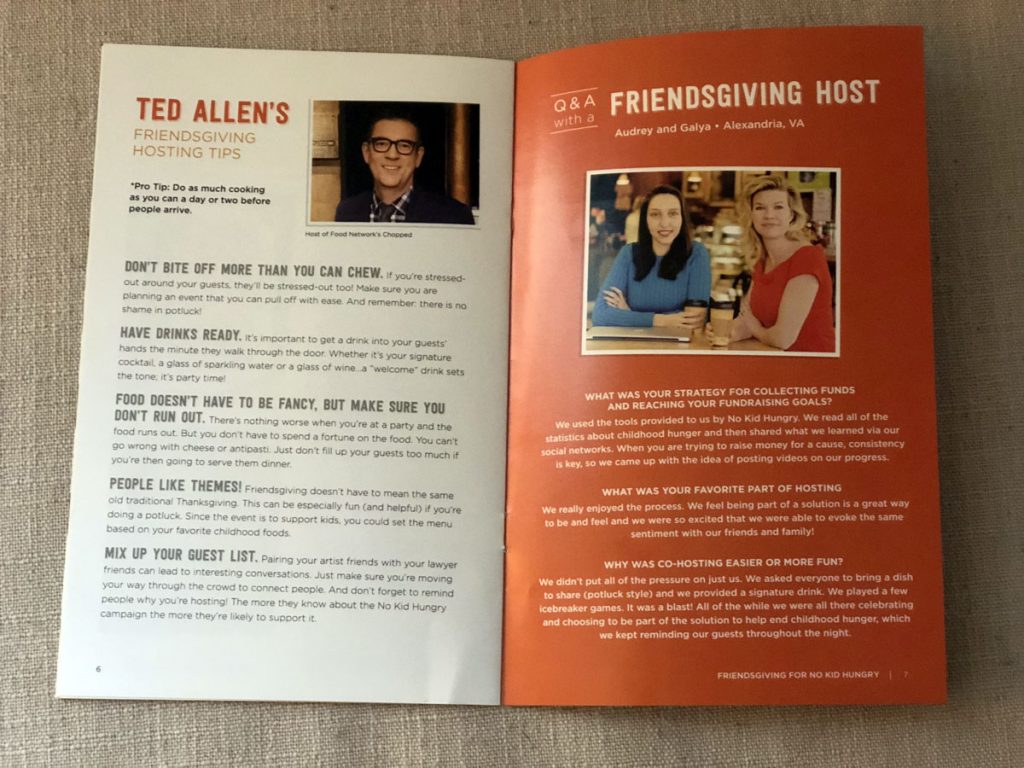 This year the wonderful team at No Kid Hungry, featured us in a Facebook Live event, where we talked about our speciality drink we provided at our Friendsgiving, which we aptly named Good Karma! It was a hit!
Friendsgiving Holiday Sangria Recipe with Happy Orange Project

We are live with Carla from No Kid Hungry and Friendsgiving Hosts, Audrey and Galya of Happy Orange Project, who are showing us how to make the best apple cider sangria! Tune in to learn how to make it for your Friendsgiving and upcoming holiday celebrations!Sign up to host your Friendsgiving: https://bit.ly/2yZ9VO1 Want the recipe? Keep reading ?3 Honeycrisp Apples3 Pears2.5 Cups of Apple Cider1 Bottle of Pinot Grigio (your choice!)1 cup of club soda.5 Cups of Brandy

Posted by No Kid Hungry on Wednesday, November 14, 2018
We would love to inspire everyone out there to host their own Friendsgiving. Use the time to bond with family and friends and to collectively make a difference by supporting a wonderful cause that you believe in! It's really easy and a ton of fun. You really make the season brighter!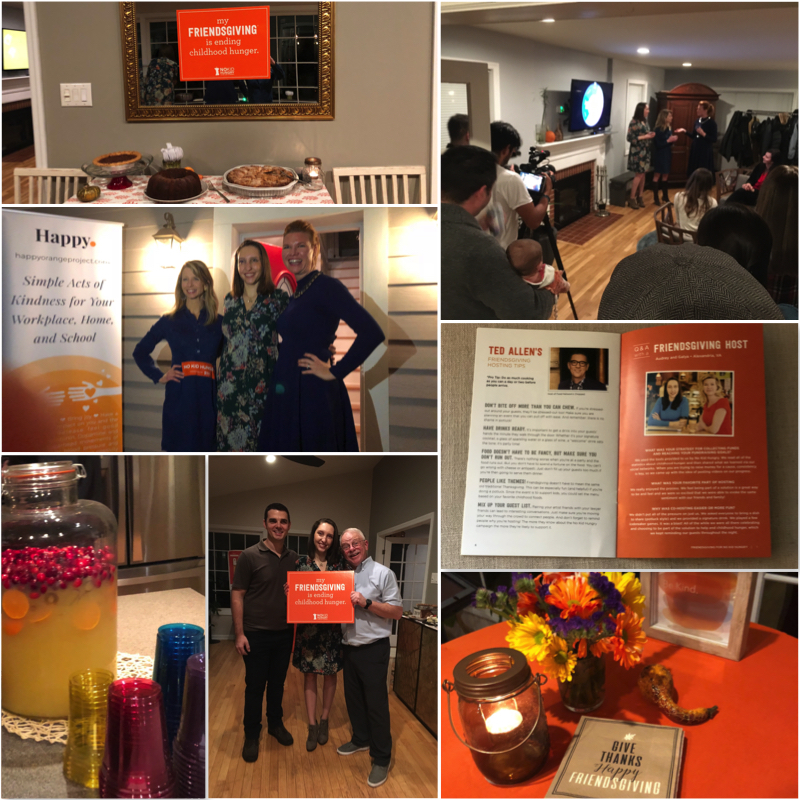 So how did we do it, you ask?
First we created the buzz…you know, the kind that tells people that we are throwing a party!  We start the (buzz) process about a month in advance. It also allows people to see the bigger picture. It allows us to tell our story. Yes, we want to party, but we also have a cause near and dear to our hearts and we want to make an impact.
Every time we would post we provided a link to our donation page which we shared across all of our social channels, and we also created an Evite. Creating an Evite makes it easier to track RSVPs. To maximize our reach we also created a Facebook Event page and spread the word through there as well. Although, everyone couldn't make it, our friends, families and happy heroes from around the world were still inclined to make donations through our fundraising page. This is because they have followed our story!  Some of our guests waited to donate at the party itself. It is so awesome to have support like this in our network, and by sharing our story via social media on our Facebook, Instagram and Twitter, it made it easy for us to remind people of our cause to help end childhood hunger in the United States.
No Kid Hungry made it really easy for us to create a fundraising page. We created an account, added a few visuals, a description of why we were supporting the cause and everything else was taken care of on their platform. And that was not all! There are an abundance of resources and visuals that we could use for social media posts that were ready for us to use. So it was a matter of a few clicks to get us going. It was such a breeze. We know how hard it is to put together such a system so we could really appreciate it. A huge Thank You to the whole team at No Kid Hungry!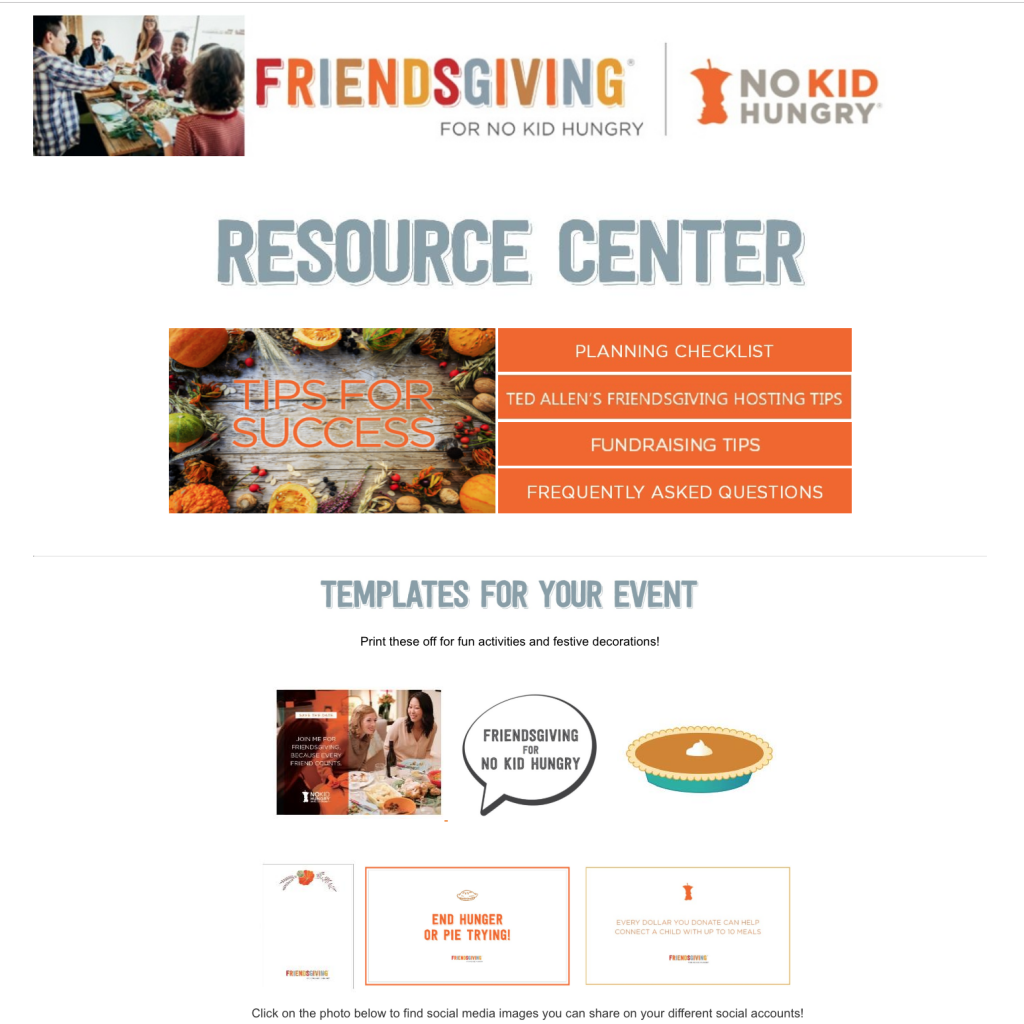 We hosted a potluck Friendsgiving dinner on November 17th in Alexandria, VA! We were honored to have our wonderful friends Steve and Jeanne who hosted the party at their lovely home. We provided our signature drink, Good Karma, refreshments, hor'dourves, music, and fun games! We invited all of our guests to bring their best dish to share. Everyone who came brought something delicious to enjoy with the crowd and the mood was so festive. Many people met for the first time, new friendships and connections formed and we all enjoyed talking about the big impact we were making collectively.
To help break the ice we also played the famous Happy Orange Kindness Wheel. At first everyone was shy to come up and play the game, but as people joined everyone got excited and we had a few wonderful rounds of simple acts of kindness and laughter shared.
We played music throughout the evening! Again we didn't have to think too hard about this as No Kid Hungry provides a wonderful playlist of great party music on Spotify as a resource! But to make things even better and inspire kindness all around we played our new song  "What it Means to be Kind"
We were grateful to also receive a few items for a silent auction that we ran during the night. Items in the silent auction included a personal training session and spa treatment. They were a hit and lots of bidding ensued.
To make the night even sweeter our wonderful founder Audrey Graziano and her husband Glenn celebrated their 17th Wedding Anniversary that night and we all enjoyed a celebratory cake in their honor. So it might be an idea to organize such an event to correlate with another celebration to make the impact even bigger and more personal. 
We hope that we are able to inspire you to perhaps host your own Friendsgiving. It is gestures like this (yes, throwing a party) and giving back to our communities that slowly change the way we see and treat each other as a whole. However, giving back doesn't have to be as big as hosting a party. Remember, it can be as simple as a smile, or holding the door for someone. Tell someone how great they are!  We sure think you are!!
If you need simple act of kindness ideas for your home, office, community or your family, check out our 365 acts of kindness list.
Love,
Galya and Audrey