Happy Orange Project does a lot of business at our local post office.  Getting all of your HOP loot mailed off to you fabulous HAPPINESS HERO'S doesn't come without a few post office visits per week.  
The kind people at USPS always take their time with us and they are always so friendly.  That is why we thought it would be nice to surprise them with a pizza lunch one day!  You can do something just like this too! It takes very little planning and it is such a welcome treat.  
You can guarantee a smile because….PIZZA!!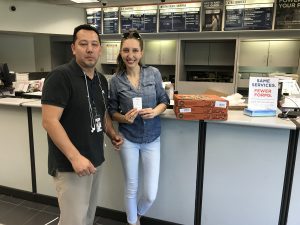 We did this a few months ago with our local fire department. We even got the kiddos involved!  Check out that act of kindness here.