Girl Scout Junior Troop 1150 joined forces with Happy Orange Project to do good in their local community.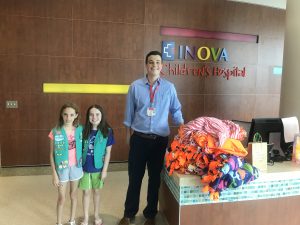 Girl Scout Troop 1150 comes all the way from Potomac, MD. They had heard about HOP through the Orange Baby Beanie Drive . We collected over 300 baby beanies world wide!
Only a few of the Girl Scout's knew how to knit beanies (and they were beautiful) but the troop wanted to do a group project.  So, in addition to the beanies, the fifth graders made homemade fleece blankets. The girls bought their own material and together created their masterpieces.  The fleece blankets were certainly made with love and style!  To top it off, the girls decided to add a little orange to their creations. Could we LOVE them any MORE???!!!
All of the gifts in kind were donated to INOVA Children's Hospital. We know for certain that the children staying there will enjoy the cozy blankets.
Because of their kindness, each Girl Scout earned her Girl Scout Bronze Award.  This shows that each young lady has completed a community service project with their troop.  We are so proud of you smart, creative and KIND little ladies.  Thanks for letting us come along for your journey.