We all need a little reminder to be kind to others, as well as to ourselves. The best part of that realization are the infinite ways to invoke kindness in the form of self-love and compassion for others. I'd like to share some of the ways my pregnancy has taught me to manage stress, enjoy some quiet time, and submerge my brain and soul in tender love and care, all while experiencing the wonderful joys that come with nurturing a new life.
I'm a go-go-go person, and very rarely do I remind myself to slow down. It's difficult for me to sit on the couch without any work in hand and just relax and watch a movie, read a book, journal or just enjoy some quiet time. Usually I'm multi-tasking, so even when I'm on the couch I'm plowing away through emails, or working on a project. However, as the months have progressed in my pregnancy, I'm reminding myself that I need to relax and enjoy the moments of bonding with my baby, or just plain and simple allow myself to be tired and feel good about taking time to relax.
Here are some ways I have found to relax, to de-stress from my everyday activities and enjoy some quiet time with myself and my little bundle of joy growing inside of me.
1. Picking up a long lost hobby, or a new one
My favorite thing to do in a quiet and cozy room is to cross-stitch. For the past 3 years, I've been working on and off — on days that I needed some quiet time. I recently put more focus on this hobby and was able to finally finish what became my favorite piece!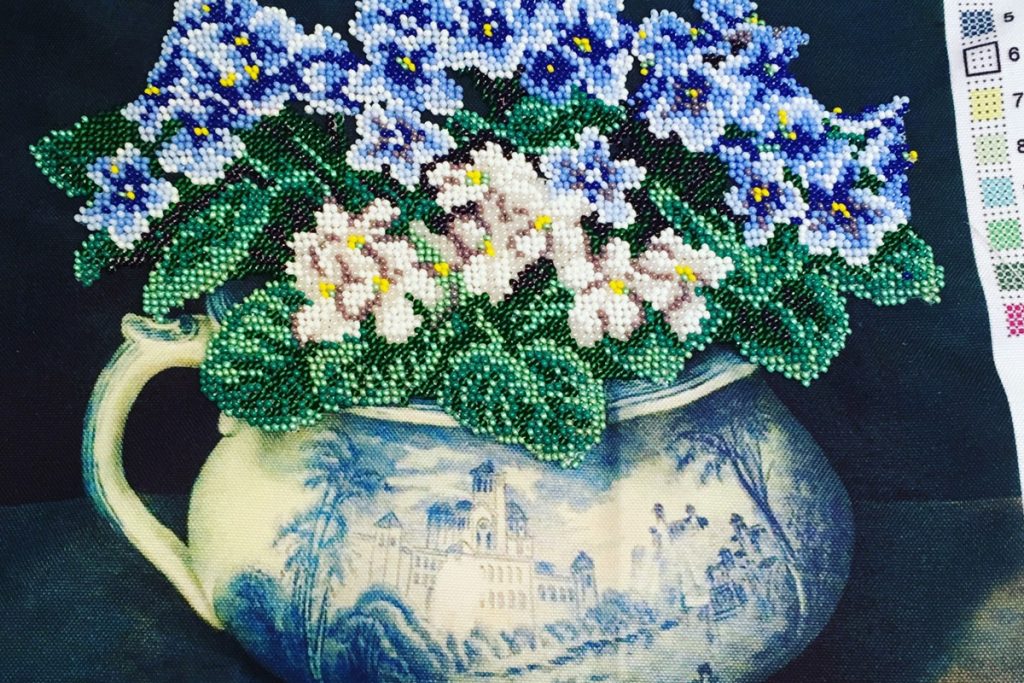 2. Rediscovering coloring books
For those out there like me who cannot sit still on the couch and just relax, but still need to multitask, coloring books are a great way to do so. My best friend recently send me a Mommy Coloring Book in the mail as a gift and I'm loving it. In the beginning it felt silly, but then I quickly realized that it's in fact a great therapy. This activity allows me to slow down and just be creative. Here's the coloring book I'm enjoying right now #MomLife. You can even find some great coloring books for adults at the Dollar Store.
3. Reading a book
It had been quite a while since I picked up a physical book to read. However, now I've pretty much made it my ritual to read a few pages a night. It can be any book really, we all probably have books sitting around the house and collecting dust. Or if not, there is probably a library nearby that you can visit. Pick up a book and immerse yourself in the story line. It's a great way to step away from computer, tv and phone screens. Did you know that looking at a screen before you go to bed might be negatively affecting your sleep?
4. Going to bed early
This is probably the best way to be kind to your body. If you're tired – go to bed, there is no shame in listening to your body. In the beginning I felt a guilt going to be early around 8:30 – 9pm and I tried to fight it. I often found myself saying – just a few more things around the house or let me get through a few more emails and I'll go to bed. I quickly realized that this was the wrong approach. In fact, I also made myself a policy – no computer allowed in bed. Thus, I could not work and could really relax. So yep I gave up, and now I'm thanking myself.
5. Listen to your body carefully and often
It's so important to listen to clues our bodies give us. As the pregnancy has progressed, I'm getting tired way quicker than before. Again, I tried to fight it in the beginning as I'm not one to leave things for tomorrow. However, as my priority of being healthy has taken over my daily routine, I'm starting to not worry so much about the chores that need to be done, the laundry that needs to be folded or the dishes that need to be washed. These things can wait a few hours or even until tomorrow. It's sooo hard I know – but once you free yourself from the stress, it feels soo good.
6. Enjoying time outdoors
Most of us spend 90% of our days indoors, be it at the office or at home. Going outdoors is like an afterthought, or left for the weekends. Unless you have a dog, a child or you're a runner, I bet you, like myself, don't think about spending time outside on the regular. Being outdoors, around nature has proven to be a wonderful way to relax. I love listening to the birds chirp and feeling the sunshine on my face. I live in a community with sidewalks, and have made it a daily ritual to take a minimum 15-20 minute walk during the day to get some fresh air, clear my mind and enjoy some time outside, soaking up that vitamin D.
I'm learning to treasure these wondrous and ever changing nine months of pregnancy and to be kind and patient with myself. I will strive to continue to listen to my body and to be kind to myself for years to come. It's much easier to remind ourselves to be kind to others, and we tend to forget that it's is so important to also practice what we preach. Enjoy your time, your deserve it!