We had our first big event on April 1st, 2017!
Happy Orange Project had the pleasure and honor to be a sponsor at the Chance for Life Event in Washington D.C.  To date, Chance for Life has raised more than $2M for pediatric cancer research and will only continue to grow thanks to the generous support of the Washington D.C. community, sponsors, friends and family.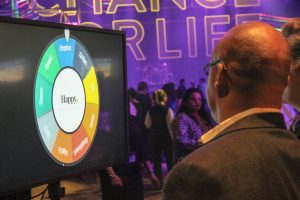 We debuted The Kindness Wheel.  Happy Orange Project encouraged guests to perform simple acts of kindness on the spot.  Some examples were- tell your best joke, make eye contact and smile at a complete stranger (like right now), go tell another guest that you LOVE their outfit, do a random dance, pinky promise to buy someone a coffee tomorrow morning… and many more.  It was a great ice breaker and facilitated a lot of new friendships. ALSO- if you did a simple act of kindness there was an opportunity to get some loot.  We were giving away tshirts, kindness cards, glow sticks and LED rings-that happened to be a blinking sensation for the iHeartRadio after party.  A disco ball on your finger is where it is at!
A great time was had by all.  Take a look a the images below if you don't believe us!!!  It feels so good to give back and to inspire by example….even at a party.