Happy Orange Project had a successful clothing and supply drive this past weekend!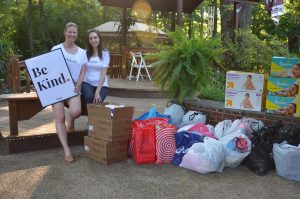 Happy Orange Project hosted a clothing and supply drive for our June act of kindness. We chose a few organizations and shelters that help women and families in need and those escaping violence in our DMV community.
 We invited our guests to bring a few items to donate.  We divided them up between the organizations, so more people could benefit from each individual's kindness.
The organizations that we chose were:
Doorways for Women and Families: https://www.doorwaysva.org/about-us/
Doorways for Women and Families creates pathways out of homelessness, domestic violence and sexual assault leading to safe, stable and empowered lives.
Bethany House of Northern Virginia: http://www.bhnv.org/
Bethany House provides emergency shelter and supportive services to victims of domestic violence throughout Northern Virginia and the surrounding DC metro communities.
Carpenter's Shelter: http://www.carpentersshelter.org/
Carpenter's Shelter supports the homeless to achieve sustainable independence through shelter, guidance, education and advocacy.
These organizations are in need of the following items below:
Lightly used clothing (professional clothing, children's clothes, blankets, winter clothing)
Cleaning Supplies
Household Cleaners
Bathroom Cleaners  
Dish Soap
 Personal Hygiene Items (things that a lot of us take for granted)
We are happy to say that all of these were covered in our drive!!!
Our guests also played with our Kindness Wheel so that we could get to know each other and more or less break the ice.  It is a fun way to network with like minded people in the community.  A lot of new friendships were made!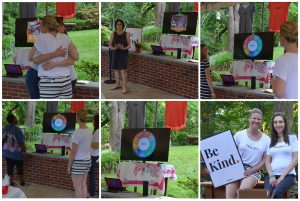 Stay tuned for our next event.  
And as always, #bekind.